Chinese National Program with Intensive English: PK-G10
Students in this program follow the standards and practices mandated by the Chinese Education Ministry. Students complete all requirements to be able to pass their national and local exams including the Zhongkao in Grade 9 and the Gaokao in Grade 12. What makes this program unique, compared to others of its kind, is its emphasize on intensive English instruction. Baishan students begin English classes in Pre-Kindergarten, delivered by both foreign and Chinese ESL teachers. Foreign teachers focus on oral language, listening, and speaking while the Chinese teacher focuses on phonics, grammar, and writing. The frequency of English classes begins at three times a week for our youngest learners and increases with age until a maximum of nine times per week for High School students, ensuring working proficiency by the time students graduate.
Baishan Kindergarten (Ages 3, 4, 5)
With the motto "Life is Learning", Baishan kindergarten inspires our youngest learners with an inquiry-based, hands-on approach. Our program offers classes to all 3 to 6 years old in Chinese with additional English-intensive classes provided every week, laying the foundation for them to become internationally-minded global leaders.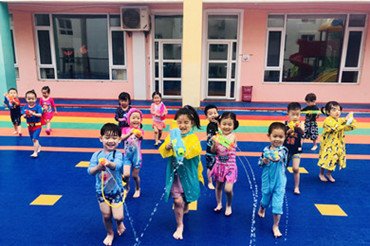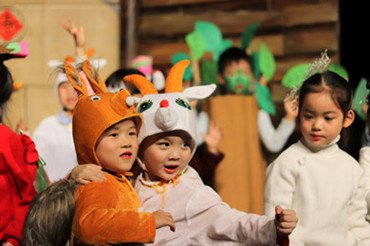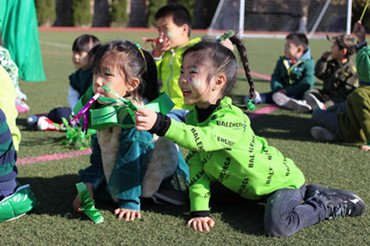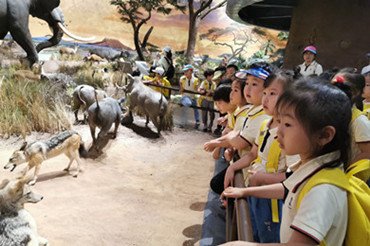 Primary School (Grades 1-6)
Baishan Primary School provides Chinese-regulated national curriculum for students in Grades 1 to 6. Since 2017, Baishan Primary has adopted an inquiry-based program, providing transdisciplinary units that revolve around a central theme in each of the grades. These engaging units of inquiry end in a unit celebration, where students demonstrate their learning through presentations to parents and the school community. In this inspiring program, Chinese English teachers and foreign ESL teachers collaborate closely to develop students' English proficiency in reading, writing, listening, and speaking.
With the "holistic" educational philosophy at Baishan school, a rich afterschool activities program is offered two times a week to cultivate student talents in music, art, robotics, dance, ballet, chess, soccer, basketball, and more. In addition, Baishan School runs a weeklong "camp" for primary students once a year, hosting students in the campus dorm with special activities at night to provide opportunities for students from one-child families to experience life independently from parents, learning the attributes of cooperation, caring, sharing, and problem-solving.
Baishan School values and emphasizes the importance of understanding China's rich cultural history, through deep and enriching studies of classic Chinese literature, history, and philosophy. At the same time, our goal is to prepare students to take their place as innovative global leaders of the future. To that end, when students reach Grade 6, they can choose to study overseas for three months with American students at a public school in Tacoma, Washington. This short-term study abroad helps to expand student perspectives while developing international mindedness and cultural appreciation.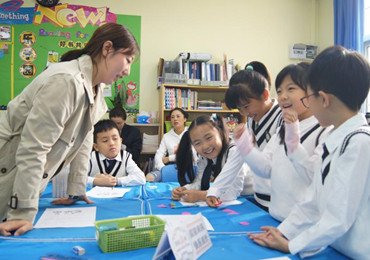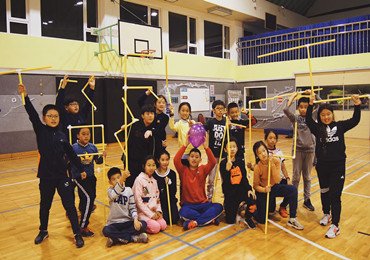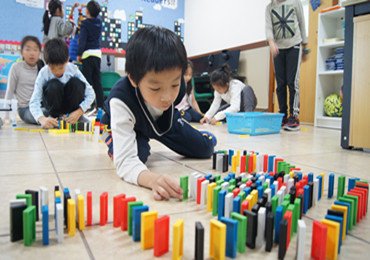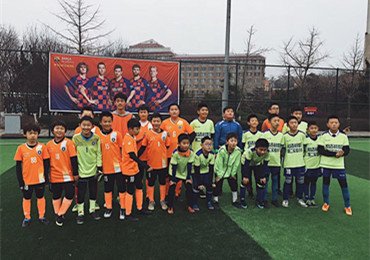 Secondary (Grades 7-9)
Baishan Secondary School offers rich, engaging programs according to the Chinese national Curriculum that prepares students for success in the Zhongkao and Gaokao as well as in university. Programs emphasize rigorous content, but also independent inquiry, research, and critical thinking. To supplement the compulsory curriculum, Baishan Secondary School maintains a consistent advantage by delivering lessons taught in English by foreign teachers for elective subjects.
Baishan Secondary School has consistently ranked among the top academic schools in Qingdao. Boarding on campus is available but optional for Baishan Secondary School students.